Clothing: Expect to see retailers mark down spring clothing 30% to 40% this month for mid-season sales. For deeper discounts of 50% or more, though, wait until the end of the season in May.
Kiplinger Online post ~ Best and Worst Buys for April, 2013 ~ by Cameron Huddleston,
This spring (and with an eye on Earth Day), as you begin purging your closets and drawers to make room for the new clothing you've scored while taking advantage of seasonal sales, don't be so quick to toss or donate your unwanted items. Maybe you're like me who often has a sentimental attachment to certain clothes - and even though you know you'll never wear them again, you can't seem to get rid of them. I love discovering ways to repurpose favorite clothing pieces to get that last bit of extra use out of them and keep them near me at the same time.
Clothes that are too worn to donate or that have no sentimental value to me are almost always stripped of their reusable elements (i.e. zippers, buttons, pockets, etc.) to be used in future crafting or repair projects, then tossed in the rag pile.
Recently, I used some of the buttons from my mom's saved button collection to make vintage button hairpins to be given to my nieces as a nice reminder of their grandma.
Just bobby pins and
Krazy Glue
give these buttons a new life.
But for those items that I have trouble parting with no matter what their condition, I try to repurpose them in a way to extend their usefulness and life. For example:
Here's a sample from
Family Chic
of turning a men's dress shirt cuff into a little pouch to hold cash, jewelry or other small objects to be thrown into a purse or pocket. Simply cut the cuff from the shirt sleeve and sew the two sides up!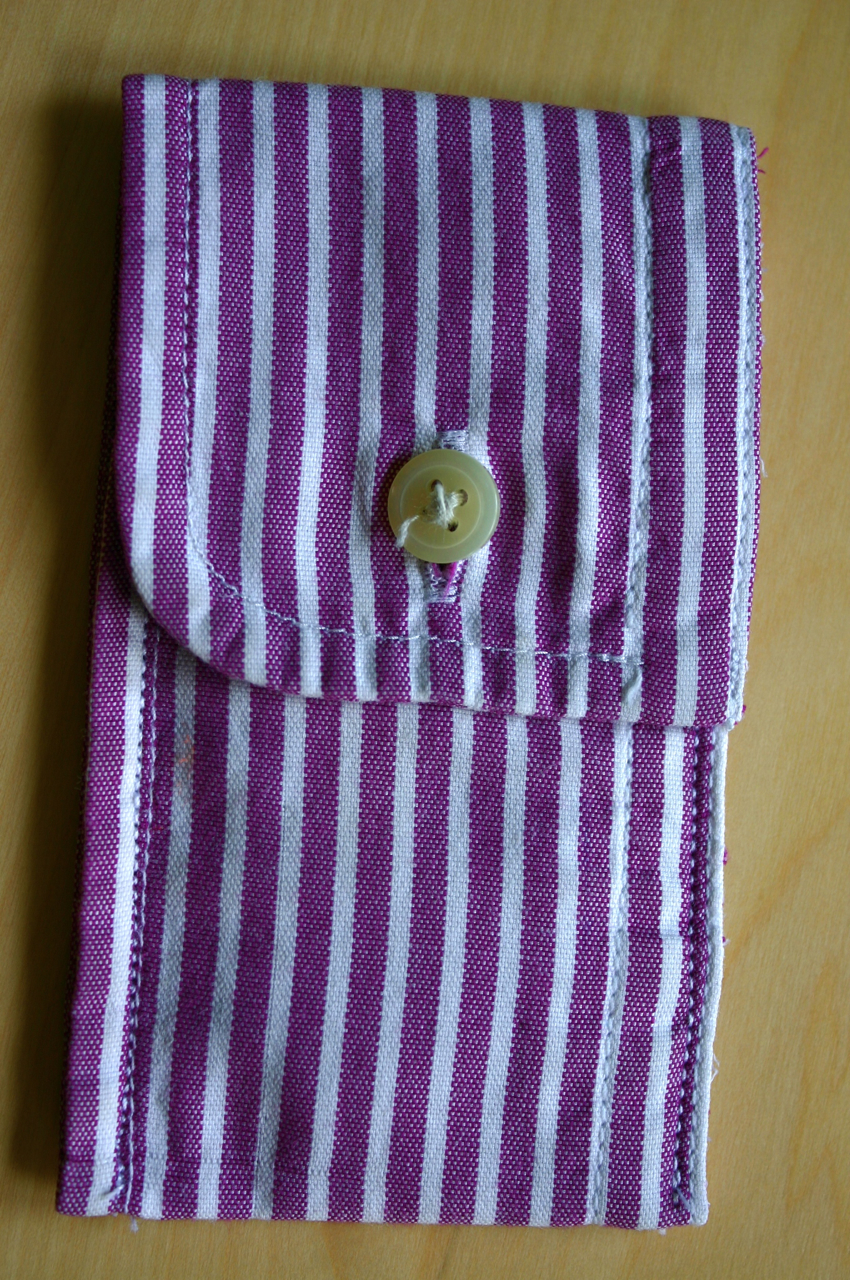 Last summer, I used old jeans to make a fun denim banner that hangs in my craft room for now, but will be used later this year on Memorial Day and 4th of July to give a nice Americana look to my buffet serving area.
More recently, I took on a more ambitious repurposing project when I turned a pile of my son-in-law's old, but cherished, t-shirts and well-worn jeans into a great and, hopefully still cherished,
t-shirt and jeans quilt/picnic blanket.
The bottom, or jeans side, of the quilt was made from nine pairs of men's jeans. And the whole thing rolls up nicely to take along wherever the summer activities lead.
There are thousands of ways to repurpose clothing, giving new life to worn objects. This spring, cast a creative eye toward your no longer useful items and re-craft them into new favorites.